How much can bioenergy reduce vehicle carbon emissions?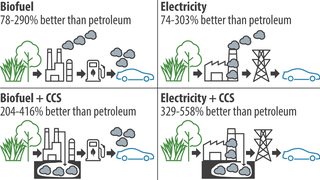 Study compares potential climate benefits of different bioenergy crops
The Science
Lowering the net greenhouse gas emissions of light-duty vehicles is an important aspect of mitigating climate change. Many climate change mitigation scenarios rely on replacing petroleum-based transportation fuels with fuels or electricity from dedicated bioenergy crops. Some also incorporate the benefits of carbon capture and storage (CCS), which prevents carbon from entering the atmosphere. However, the climate benefits of using different bioenergy crops have not been directly compared, nor have the effects of adding CCS or of using ethanol vs electric vehicles. Over the course of eight years, researchers at the Great Lakes Bioenergy Research Center (GLBRC) assessed the carbon emissions associated with using various bioenergy crops for ethanol or electric-powered vehicles and compared them to petroleum.
The Impact
Modeling scenarios have lacked direct measurements of the carbon emissions associated with growing and processing bioenergy crops, leaving large uncertainties regarding how much bio-based strategies could help reduce climate change by replacing petroleum or capturing and storing carbon. This study calculates the emission reductions associated with different bioenergy crops, such as corn and switchgrass, and shows that CCS increases the potential climate benefits of bioenergy.
Summary
GLBRC researchers set up field experiments at two former agricultural sites in the midwestern U.S. They grew seven feedstocks: corn (for stover), switchgrass, miscanthus, poplar trees, native grasses, early successional vegetation, and restored prairie. The researchers collected data from plantings in 2008 through 2016 and measured each system's energy yield and net greenhouse gas emissions. With these data, they estimated the reductions in carbon dioxide emissions (relative to petroleum) for each crop under four different scenarios for powering light-duty vehicles: (1) cellulosic ethanol, (2) cellulosic ethanol in combination with CCS, (3) electricity from biomass, and (4) electricity from biomass in combination with CCS.
The different crops yielded different amounts of energy, with the most energy per hectare from miscanthus, poplar, and switchgrass. Use of CCS reduced net emissions for all the systems, ranging from 204% lower relative to petroleum for stover to 416% lower for restored prairie when used to power ethanol vehicles. Emission reductions ranged from 329 to 558% for electric vehicles. These potential reductions are larger than any other land-based carbon mitigation strategies proposed to date, including reforestation, and suggest that CCS may be an important component of future emission mitigation approaches.
Program Manager
N. Kent Peters
Program Manager, Office of Biological and Environmental Research
kent.peters@science.doe.gov, 301-903-5549
Corresponding Author
G. Philip (Phil) Robertson
Michigan State University
robert30@msu.edu
Funding
Financial support for this work was provided by the U.S. Department of Energy Office of Science (DE-FC02-07ER64494, DE-SC0018409) and Office of Energy Efficiency and Renewable Energy (DE-AC05-76RL01830), the U.S. National Science Foundation LTER program (DEB 1832042), and Michigan State University AgBioResearch.
Publication
Gelfand, I., et al. "Empirical evidence for the potential climate benefits of decarbonizing light vehicle transport in the U.S. with bioenergy from purpose-grown biomass with and without BECCS." Environmental Science & Technology 54, 5, 2961-2974 (2020). [DOI: 10.1021/acs.est.9b07019]
Sustainable Biomass Conversion
Sustainable Field-to-Product Optimization
Sustainable Bioenergy Cropping Systems