Outreach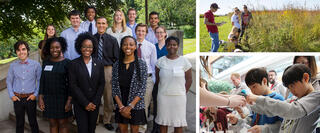 The mission of GLBRC Education & Outreach is to inform a variety of audiences about bioenergy research, energy concerns, and sustainability issues affecting our planet. Our goal is to broaden the understanding of current issues in bioenergy for the general public, undergraduate students, and educators.
Opportunities for Undergraduate Research
Great Lakes Bioenergy offers a number of opportunities for undergraduate students to gain research experience on both the UW–Madison and Michigan State campuses.
Classroom Materials
Collaboratively developed by teachers, professional educators, and scientists, Great Lakes Bioenergy has classroom materials available online designed to work within the constraints of the K-16 classroom.
Education Research
The Great Lakes Bioenergy outreach team has a number of resources, including white papers, videos, and webinars, available online for educators looking to learn more about student scientific understanding and development.