Events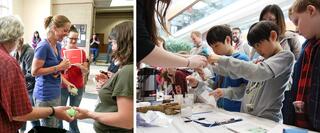 The Great Lakes Bioenergy Research Center and its main home organizations, the Wisconsin Energy Institute at the University of Wisconsin–Madison and Michigan State University, participate in and host a variety of events throughout the calendar year. From campus-wide science festivals to online panel discussions, we work to share the science (and the scientists) of our center with our communities.
Contact outreach@energy.wisc.edu with any inquiries.
Upcoming events at the Wisconsin Energy Institute
The Wisconsin Energy Institute (WEI) hosts and promotes many energy-related events on campus and beyond. WEI also hosts two event series, the Sustainable Energy Seminar Series and the Forward in Energy Forum. WEI also welcomes all types of groups, including K-12, 4H, youth groups, teachers, teachers-in-training, and lifelong learners of all ages for field trips and tours. Learn more here.
Upcoming events hosted by WEI at the University of Wisconsin–Madison
Upcoming events at Michigan State University
In addition to the events listed below, MSU's W.K. Kellogg Biological Station offers a variety of field trips and professional development for teachers. Learn more here.
Date/Time: April 10, 2021, 2-2:25 p.m. ET
Description: Can cars run on plants? Join us to conduct a simple, at-home experiment to answer some of the very same questions researchers at MSU are exploring. We will investigate how researchers can turn plants into fuels with a little help from an awesome microbe and its fermentation powers. With simple materials from your kitchen or yard, we'll observe and measure evidence of the chemical changes associated with fermentation, discuss our results, and talk about why scientists are searching for renewable alternatives to oil.
Date/Time: April 27, 2021, 7:30-8 p.m. ET
Description: Do a plant's neighbors matter? To answer this question scientists study plant roots and what they do in the soil. Hidden below the surface, roots play a tremendous role--from the size of few microns to whole landscapes--on the lives of soil microbes, plants, and even humans. Join us to meet a team of incredible MSU scientists, learn how they design experiments to study soil and roots, and find out how they apply what they uncover to growing plants to make plant-based fuels.