Events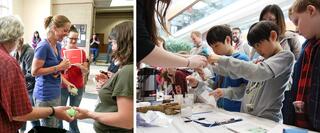 The Great Lakes Bioenergy Research Center and its main home organizations, the Wisconsin Energy Institute at the University of Wisconsin–Madison and Michigan State University, participate in and host a variety of events throughout the calendar year. From campus-wide science festivals to online panel discussions, we work to share the science (and the scientists) of our center with our communities.
Contact outreach@energy.wisc.edu with any inquiries.
Upcoming events at the Wisconsin Energy Institute
The Wisconsin Energy Institute (WEI) hosts and promotes many energy-related events on campus and beyond. WEI also hosts two event series, the Sustainable Energy Seminar Series and the Forward in Energy Forum. WEI also welcomes all types of groups, including K-12, 4H, youth groups, teachers, teachers-in-training, and lifelong learners of all ages for field trips and tours. Learn more here.
Upcoming events hosted by WEI at the University of Wisconsin–Madison
Upcoming events at Michigan State University
MSU's W.K. Kellogg Biological Station offers a variety of field trips and professional development for teachers. Learn more here.