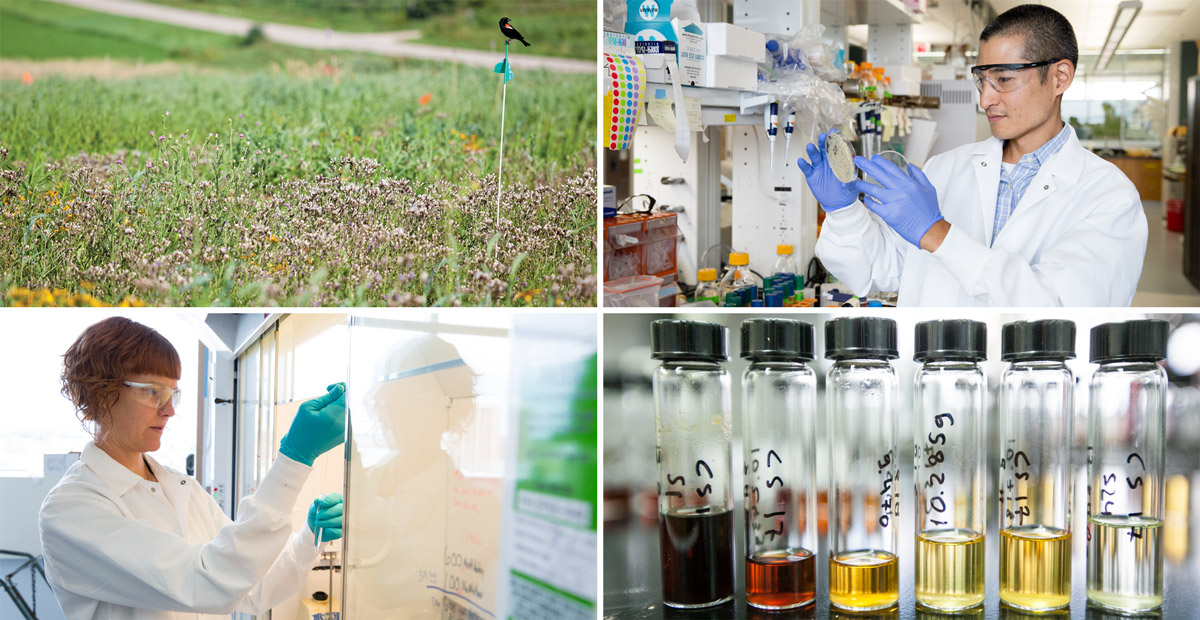 James Runde and Matthew Wisniewski
The U.S. Department of Energy (DOE) has selected the Great Lakes Bioenergy Research Center (GLBRC) for an additional five years of funding to develop sustainable alternatives to transportation fuels and products currently derived from petroleum. The past recipient of roughly $267 million in DOE funding, the GLBRC represents the largest federal grant ever awarded to UW–Madison.
In this next phase of funding, GLBRC scientists and recently recruited experts will conduct research that enables the sustainable production of specialty biofuels and bio-products using dedicated bioenergy crops such as switchgrass, poplar trees and sorghum. These bioenergy crops will be grown on marginal – or non-agricultural – land, a shift from GLBRC's previous mission of producing biofuels from crops grown on agricultural land.
Established by the Biological and Environmental Research program in DOE's Office of Science in 2007, GLBRC is based at the University of Wisconsin–Madison's Wisconsin Energy Institute and includes a major partnership with Michigan State University (MSU). The cross-disciplinary center draws on the expertise of biologists, chemists, engineers and economists, and employs over 400 researchers, students and staff conducting foundational bioenergy research.
"Collaboration has been at the core of GLBRC's efforts from Day One, and it will continue to drive the goals of this new center and help us realize our vision of developing bio-based sources of fuels and chemicals," says Tim Donohue, GLBRC director and UW–Madison professor of bacteriology. "We are in a unique position to not only address a major societal challenge, but to create new revenue sources and economic opportunities for farmers, rural communities and a new generation of bio-refineries, as well as to create new, locally produced and cost-effective products for consumers."
DOE has announced four Bioenergy Research Center selections for fiscal year 2018, with plans to provide five years of funding. Specific funding amounts for 2018 and beyond will be finalized as part of future federal budget processes.
Over GLBRC's 10-year history, it has built academic and industrial partnerships that have yielded more than 1,000 scientific publications, 160 patent applications, 80 licenses or options, and five start-up companies.
"Transforming the results of scientific research into new commercial products is a complex process," says Marsha Mailick, UW–Madison vice chancellor for research and graduate education. "But when universities and companies work in tandem to push the frontiers of knowledge, they become a powerful engine for innovation and economic growth. GLBRC is an excellent example of university researchers and industry working closely together to generate new knowledge and maximize the social and economic benefits of these new ideas."
"The GLBRC is prolific in its partnership, disclosing dozens of new technologies to the Wisconsin Alumni Research Foundation (WARF) over the last few years," says Erik Iverson, managing director of WARF. "These inventions have resulted in several licensing agreements. We are delighted this federal grant will continue this cycle of innovation."
Building on past accomplishments, GLBRC's next phase will focus on producing dedicated bioenergy crops on non-agricultural lands, maximizing the production of specialty fuels and bio-products from those crops, and building a comprehensive understanding of the field-to-product pipeline to maximize the sustainability and economic benefits offered by a future cellulosic bio-industry. Together, these efforts have the potential to spur a new bio-refinery industry equipped to create valuable products from as much of a crop's biomass as possible.
As a university-based DOE Bioenergy Research Center, GLBRC will continue to benefit from the resources, strategic partnerships, and world-class research programs at UW–Madison and MSU.​
"GLBRC's selection demonstrates UW–Madison's continued excellence in clean energy research," says UW–Madison Chancellor Rebecca Blank. "Our broad expertise in areas such as plant sciences, microbiology, economics and engineering is enabling the development of new and innovative technologies that can bring about American energy sustainability while also strengthening the economy right here at home."
"MSU has driven much of the sustainability focus of the GLBRC, and we are proud of the many areas of expertise we contribute," says MSU President Lou Anna K. Simon. "The research center provides exciting opportunities for us to collaborate across campuses and disciplines, tackling the challenge of bio-based energy solutions with an integrated approach."
Additional university collaborators include the University of British Columbia, Texas A&M University and Michigan Technological University.
Learn more about the BRC program, read about highlights from the first ten years, and see where our research is headed in the next five years by downloading our BRC Program handout.
Sustainable Bioenergy Cropping Systems
Sustainable Biomass Conversion
Sustainable Field-to-Product Optimization