An "ideal lignin" for biorefineries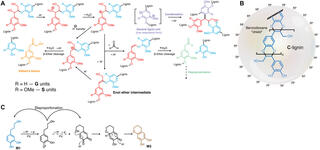 Li et al.
Linear C-lignin, comprised of catechyl units, results in high monomer yields
The Science
Recent advancements from the lignin biosynthetic research community provide a greater understanding of lignin composition and structure, including revelations about new, previously unknown components of the lignin polymer; this makes it possible to imagine what features an "ideal lignin" might have. In this collaborative study, GLBRC researchers and their colleagues describe the ideal nature of catechyl lignin (C-lignin) via a revised compositional characterization, advantageous features in regard to reactivity and stability, and their successful attempt to convert C-lignin polymers to monomers in near-quantitative yields.
The Impact
Valorizing lignin is increasingly understood as being essential to efficient plant biomass utilization and the process economics of future biorefineries. GLBRC researchers, along with colleagues at CBI and other research entities, demonstrate that catechyl lignin (C-lignin) might represent an ideal lignin for this purpose. The study reports that the structural homogeneity and acid stability of linear C-lignins allow their deconstruction to useful monomers in high yield.
Summary
Lignin, a major component of lignocellulosic biomass, is crucial to plant growth and development but is a major impediment to efficient biomass utilization in various processes. Valorizing lignin is increasingly realized as being essential to this pursuit. However, rapid condensation of lignin during acidic extraction leads to the formation of recalcitrant condensed units that, along with similar units and structural heterogeneity in native lignin, drastically limits product yield and selectivity. Catechyl lignin (C-lignin), which is essentially a benzodioxane homopolymer without condensed units, might represent an ideal lignin for valorization, as it circumvents these issues. We discovered that C-lignin is highly acid-resistant. Hydrogenolysis of C-lignin resulted in the cleavage of all benzodioxane structures to produce catechyl-type monomers in near-quantitative yield with a selectivity of 90% to a single monomer. Thus, C-lignin has numerous compelling features for a biorefinery operation aimed at delivering value from its lignin component, thereby improving process economics.
Contacts (BER PM)
N. Kent Peters
Program Manager, Office of Biological and Environmental Research
kent.peters@science.doe.gov, 301-903-5549
(PI Contact)
John Ralph
University of Wisconsin - Madison
jralph@wisc.edu
Funding
Funding was provided by the DOE Great Lakes Bioenergy Research Center (DOE BER Office of Science DE-FC02-07ER64494 and DE-SC0018409) and the DOE Center of Bioenergy Innovation (DE-AC05-000R22725) and the Swiss Competence Center for Energy Research: Biomass for a Swiss Energy Future, through the Swiss Commission for Technology and Innovation grant KTI.2014.0116.
Publications
Li, Y. et al. "An "ideal lignin" facilitates full biomass utilization." Science Advances 4, eaau2968 (2018) [DOI: 10. .1126/sciadv.aau2968].
Related Links
http://advances.sciencemag.org/content/4/9/eaau2968
https://www.glbrc.org/news/researchers-find-value-unusual-type-plant-ma…
Sustainable Biomass Conversion
Sustainable Field-to-Product Optimization