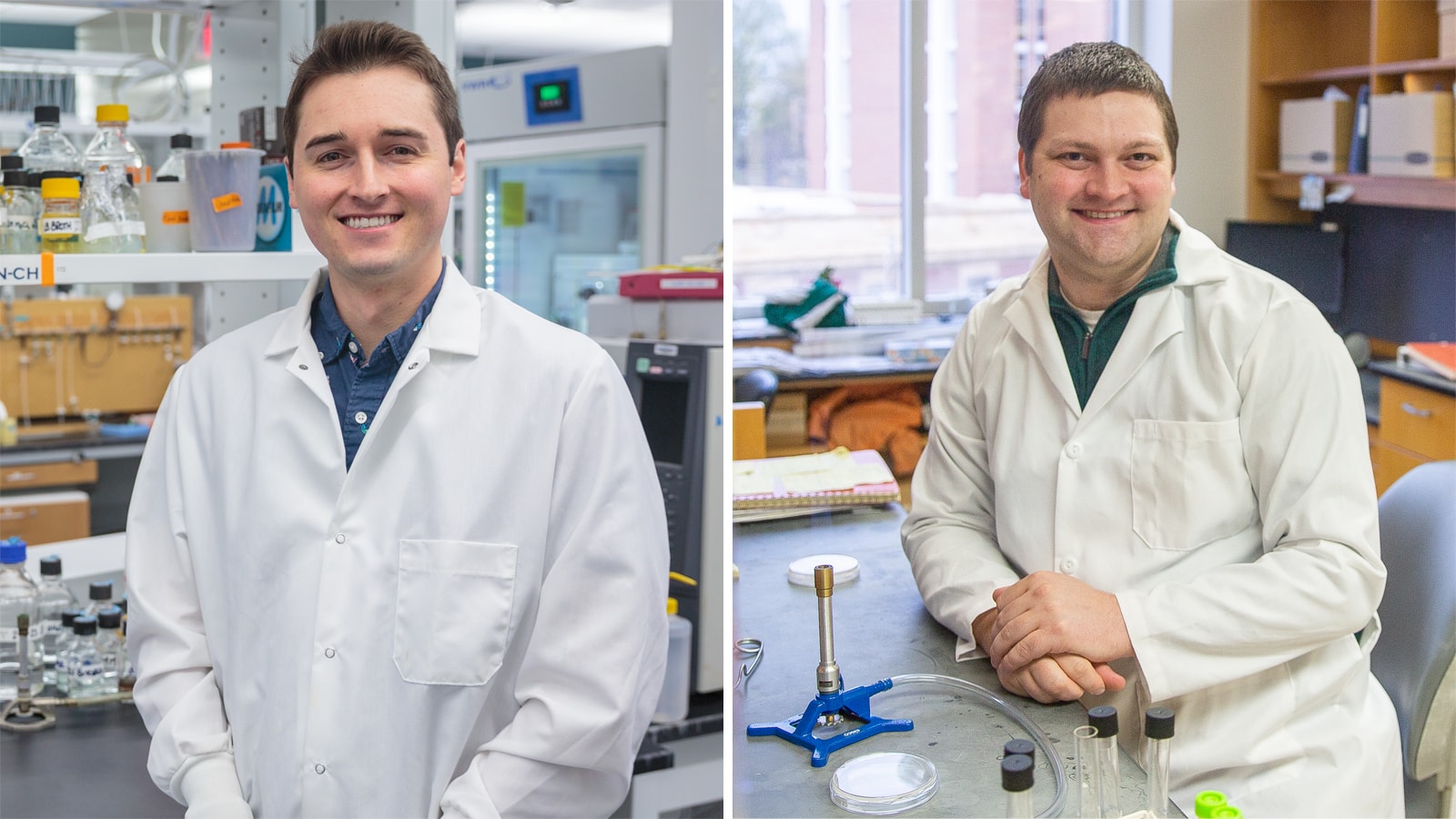 Chelsea Mamott
Great Lakes Bioenergy Research Center researchers Ben Hall and Daniel Parrell are the winners of the 2023 Outreach and Service Award in recognition of their contributions to the center's mission.
The award, established in 2019 with support from industry partners, recognizes GLBRC members who have demonstrated a spirit of generosity in sharing science with the public. Such efforts may include participating in or coordinating outreach programming, dedicating time to support service activities, or sharing expertise with public audiences during their time in the GLBRC.
Hall, a fifth-year Ph.D. student in the Donohue lab at UW–Madison, works on and off campus to expose undergraduates and high school students to science, technology, engineering, and math (or STEM). For the past three years, Hall has served as a coach for the Madison West High School Science Olympiad team. Science Olympiad is a national organization where teams of middle and high school students learn about science through written and lab-based competitions. Through his coaching, Hall sharpens his teaching skills, applying what he learned in professional development workshops to prepare weekly lesson plans and activities around cell biology.
Hall is also an instructor for a summer undergraduate course introducing incoming freshmen to biology and the resources to succeed in STEM classes and helps with Science Expeditions, where he leads hands-on activities to engage children and their families with science.
"It's hard to encourage students to go into STEM fields if they haven't been exposed to STEM classes or done some of the cool experiments we have at outreach events," Hall says. "Helping students think about science in ways that are interesting and applicable to them early on is important for getting students to want to pursue careers in STEM."
As co-director of the UW-Biocore's Wisconsin Heights Summer Science Camp, Parrell enjoys helping students find their science "spark." Parrell has been involved with the week-long program since he was a camper and transitioned to a student teacher after he joined the Biocore program as an undergraduate at UW–Madison. He made it a priority to come back to Madison and help with the genetics unit of the camp even in graduate school at Michigan State University, understanding the impact programs like these have on students' interest in science and research.
"We all interact with science every single day. We all see the world around us and make conclusions based on the things that we see," he says. "It's really impactful to show kids that you don't have to be in a lab coat in order to be a scientist. Scientists are people of all races, people of all genders."
Parrell, a post-doctoral researcher in the Wright lab at UW–Madison, has also talked with policymakers about the importance of bioenergy research. He led a tour of the Cryo-Electron Microscopy Research Center at UW–Madison to Wisconsin Congressional representatives, showcasing how federal grants are furthering scientific innovation.
"Outreach helps educate the public on the important work that we do at our public universities," Parrell says. "It's important that as scientists, we're able to communicate with the public about what we're doing and how it is affecting them."