Biomass Derived Aromatics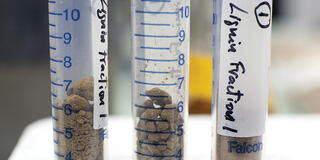 Lignin comprises about 30 percent of most biomass. In most paper and pulping mills, lignin is a near waste product burned for process heat. Great Lakes Bioenergy researcher and UW–Madison professor Shannon Stahl, however, has developed a novel way to convert lignin into high-value chemicals.
Stahl and his team discovered an efficient, cost-effective method for breaking down lignin's six-carbon rings – the "aromatics" – into individual components. Traditionally sourced from petroleum, aromatics are used in a wide variety of products, including plastic soda bottles, Kevlar, pesticides, and pharmaceuticals, and are essential components of jet fuel.
Converting what has been a large volume waste product into a new source of renewable aromatics could transform the economics of industries that process wood and other biomass. And Stahl's method helps open the door to a more economical way forward in replacing petroleum-derived fuels and chemicals with bio-renewable materials.
Sustainable Biomass Conversion