Sustainable Cropping Systems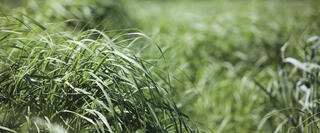 Engineering bioenergy crops to enhance their environmental and economic value
At Great Lakes Bioenergy, our research focuses on dedicated bioenergy crops grown on marginal, nonagricultural lands. Planting non-food crops such as switchgrass, energy sorghum, or poplar on marginal land reserves arable U.S. farmland for food production and has the potential to provide a range of environmental benefits such as climate change mitigation and increased diversity.
Our goal is to engineer cropping systems with both environmental and economic value. This means finding ways to produce dedicated energy crops with high yields and optimized processing traits, as well as determining how and where these energy crops should be produced. Research in sustainable cropping systems includes:
Engineering plants with lignin and polysaccharides that can be readily turned into bioproducts and specialty biofuels.
Identifying and developing plant and microbiome traits that improve switchgrass productivity and tolerance to cold, drought, and nitrogen stress.
Understanding how micro- and landscape-scale systems control carbon sequestration, nitrous oxide emissions, and nitrogen gas fixation in bioenergy cropping systems.
Growing and testing transgenic plants with traits tailored to bioproducts, including higher yields and ease of deconstruction.
Evaluating the performance of engineered switchgrass varieties with delayed flowering, and with traits that improve productivity or provide cold, nitrogen, or drought tolerance.
Validating management interventions for bioenergy cropping systems that are predicted to improve climate mitigation, nitrogen conservation, and ecosystem service benefits.