Maggie Jones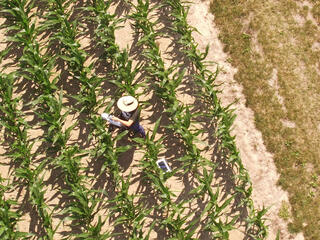 I spent my summer working in the Robertson Lab at Kellogg Biological Station. As a rising Junior at Michigan State University, I am studying Plant Biology and Fisheries and Wildlife with a Conservation Biology focus. My time at KBS working with the GLBRC has brought my knowledge of plants from the classroom into the context of our natural world.
Last summer, I was a URA at KBS taking field classes and studying rain exclusion shelter light conditions. I was able to return this summer as an REU to expand on the shelter light transmission project by measuring photosynthetic response of KBS crops to different light levels. During my time at KBS, I have discovered my love of fieldwork and working outdoors. I have built field research skills and technical instrumentation knowledge that will help me in my future career of researching our environment.
Many of my workdays were spent in the field collecting light and photosynthesis data. In the mornings, while waiting for my instrumentation to calibrate, I would look across the switchgrass fields and watch the fronds swaying in the wind. While working at our various field sites, I loved observing and interacting with the natural world around me.
I used my after-work hours to take full advantage of the beautiful lake and natural areas surrounding the biological station. I picked up running, fishing, birding, kayaking, and backpacking, with the many trails and waterways around KBS serving as a beautiful backdrop. Aside from exploring nature, I have really enjoyed spending my time outside of work making connections with other researchers in our community. Whether it be bonfires, rock climbing, visiting the zoo, or touring the local arboretum, the planned events within the KBS and GLBRC programs were beneficial for building a sense of community. I am leaving my second KBS/GLBRC summer with a manuscript in the works, a well-worn fishing pole, and an even larger collection of fond memories.