Christine Stark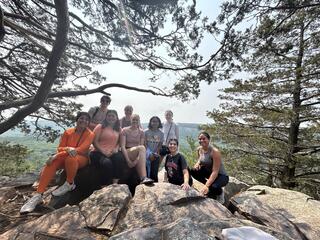 This summer I had the opportunity to participate in the Chemistry and Chemical and Biological Engineering REU at the University of Wisconsin – Madison, where I was also a part of the Great Lakes Bioenergy Research Center. I worked under the mentorship of Freeman Lan who was a postdoc in Dr. Ophelia Venturelli's lab. In the Venturelli lab, we utilized droplet microfluidics to study how bacterial capsular polysaccharide selection was affected by the mouse gut. Initially, I was nervous to dip my toes into the world of biology as most of my research experience fell into the realm of material science; however, my mentor was an excellent teacher and answered any questions I had. Throughout the project I gained more confidence and fell in love with biologically focused research. Participating in the REU program taught me so much as a scientist and I cannot wait to take back the skills I learned to NC State and graduate school in the future.
During the duration of the summer, I had a lot of fun learning and making new friends. As a group, we traveled to Devils Lake where we hiked and inevitably got lost and had to put our bouldering skills to the test. Madison, Wisconsin had so much to offer with weekly farmers market at the capital, concerts on the square, and chill nights on the terrace watching the sunset over Lake Mendota. The GLBRC cohort at UW–Madison also took a field trip to Michigan State and KBS where we learned about the advantages of bioenergy and the agriculture techniques being tested.
The REU program was a great experience and I would recommend students to participate in the program as it allows for enhancing research skills, networking, and having fun!