Sarah Herring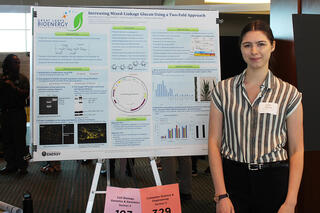 This summer I had the honor of participating in research in the Brandizzi lab through the Great Lakes Bioenergy Research Center. In my ten weeks there, I learned more than I have in most of my undergraduate courses. I have grown personally and professionally through this experience and made connections that will last my lifetime.
Coming from a small liberal arts university, I was nervous about transitioning to such a large campus where I knew no one. However, as soon as I arrived, I knew these fears were unfounded. I was welcomed so warmly by everyone in my lab, and I connected quickly with the other members of the GLBRC summer program. The other fellows and I explored East Lansing, Lake Michigan, Detroit—if it's in Michigan we probably saw it. We had movie nights, sushi dinners, and went to the MoPop music festival in Detroit. This social aspect of the program was so important to me, and I'm happy to walk away from the summer knowing that I've formed deep and meaningful friendships with such a diverse group of individuals.
In the lab, my research was focused on optimizing hemicellulose content in Sorghum. I used several model plants (such as Arabidopsis and tobacco) and employed a wide range of molecular and genetic techniques. I also got to spend time in the greenhouse, which I enjoyed. I had two mentors: Starla Zemelis-Durfee and Sang-Jin Kim. They were both so fantastic, and integral to my success. Coming in, I had only a rudimentary knowledge of the techniques I was using, and Starla and Sang-Jin went out of their way to make sure that I felt confident and informed about everything I was doing. They also went out of their way to make sure I felt at home in Michigan. My PI, Dr. Brandizzi, was so supportive, checking in to make sure I felt comfortable. She has created such a positive lab environment and it was a joy to be able to work under her supervision.
Outside of the lab, the GLBRC program provided a wealth of enriching and informative opportunities. We had professional development seminars every Monday, and these sessions provided "insider" information into the field of science, both in graduate school and job opportunities. I found these sessions to be pivotal for me as I consider what I want my future to look like. I also enjoyed each field trip. From the Kellogg Biological Station, to an ethanol plant, we saw the ins and outs of so many aspects of biofuel production and research science in general. Chrislyn did a lovely job of arranging all the session and trips, and I can't thank her enough for making the program such an enriching experience.
Going into my senior year, I know that the knowledge and skills I gained this summer will be invaluable to me moving forward. My time at MSU accelerated my growth in science and beyond, and I look forward to putting my experiences to use in the field I choose for my career. Thank you to Chrislyn, Sang-Jin, Starla, the Brandizzl Lab, and all my fellow researchers for making this the best summer of my life.