Mandy Lietz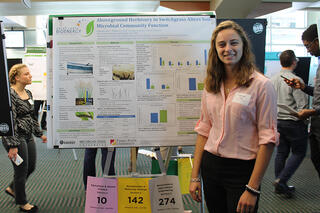 When I heard that I got accepted to the GLBRC program, I was very excited. I knew I liked agricultural research, but I wanted to try something slightly different. Participating in the GLBRC program gave me an inside look at all the work that is done for creating, improving, and maintaining bioenergy. I never knew that there were so many aspects and considerations involved in bioenergy research. I was able to see how the research performed in the GLBRC is used in the bioenergy industry.
Over the summer I worked in Dr. Lisa Tiemann's lab. I studied the effects of aboveground herbivory on the soil microbial community function. Everyone in the Tiemann lab was very friendly and helpful. I am a biotechnology major, so I was not very familiar with how soil carbon or soil microbes worked. Especially during the first couple weeks I needed someone to help guide me through some of the experiments that I was doing. I learned a lot about soil carbon and microbes that I never knew before. The research done throughout multiple labs of GLBRC is incredible. It was very cool to see the different approaches to varying avenues of bioenergy.
The GLBRC program is excellent! They do a great job of exposing you to some professional development opportunities. These professional developments helped me to get a better grasp on graduate school and the bioenergy industry. I also loved how this program took us on field trips. It was nice to get outside the lab and see how the research fits into the broader scale of bioenergy. Everyone I met was very helpful and wanted to help me to advance in my future career.
Finally, the group of other GLBRC students I was with were amazing! Throughout the summer we grew closer with each other, and we even took a few road trips to the beautiful west side of Michigan. The friendships that I made with the other students will be long lasting. Overall the GLBRC program was very informative and helpful. This program has helped me move forward toward my future education and career. I am very thankful that I got this opportunity to perform research in bioenergy!