Abisola Ojoawo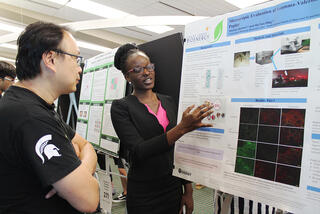 This summer I participated in the undergraduate research program at Great Lakes Bioenergy Research Center. My research project was evaluating the effectiveness of the pretreatment technology, Gamma-Valerolactone, in improving cellulose digestibility using high tech microscopy techniques. When I started the project, I was wondering how my engineering background will be applicable, but after some time I found areas where I was able to utilize my engineering skills. This program has made me realize that research involves a lot of problem-solving, time and patience.
I enjoyed working in Ding lab. The entire lab group was amazing. I felt comfortable working with every one of them. My PI, Shi-You Ding, organized a BBQ picnic and it was really nice!. Outside lab work, I got to visit the famous MSU dairy store for ice-cream. I tried exploring the rest of the campus, but I was scared of getting lost; MSU is really big compared to my college.
Overall, It was an incredible experience! I got to meet new people, develop new skills and visit bioenergy industries, where I was able to see and learn how biomass is converted into ethanol. I would definitely recommend GLBRC REU for undergraduates interested in bioenergy.