Carlye Szarowicz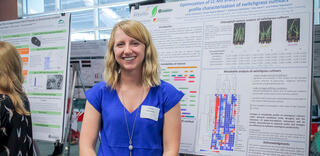 I was ecstatic when I found out that I was accepted to the Great Lakes Bioenergy Research Center at Michigan State University. I could not wait to see what the summer was going to bring, but I was also so nervous. I was definitely afraid I was not going to make friends, and because this was my first internship, I had no idea what to expect. After the first few days, I realized I worried for nothing.
Over the course of the 10 weeks, I was a student in Dr. Hideki Takahashi's lab, working with Anne-Sophie Bohrer, who is a postdoc in the lab. The research project we worked on involved characterizing amino acid profiles of switchgrass cultivars using liquid chromatography–mass spectrometry analysis (LC-MS). I learned so much in a short time, and I felt as though I was a pro at LC-MS analysis at the end of the project. Because of this opportunity, I was able to obtain necessary skills needed for day-to-day lab research.
Not only was I able to see what it was like to be a true researcher, I also was able to meet wonderful people in the laboratory. Dr. Takahashi was very welcoming and a great PI; Anne-Sophie was kind and hilarious and soon became a close friend and mentor. She also bought me ice cream at the Dairy Store a few times, and the ice cream there is delicious!
On more of a personal level, because this program only has a small group of students, we were able to become very close to one another and we had the time of our lives. As a group, we did something every night, whether it was a card game or Spikeball. We went to the beach and swam a lot, too. Early in the trip, Dr. Eric Hegg invited us to his cabin in Manistee, and let me tell you, I think that was my favorite part of this program. It was a beautiful lake house, the scenery was gorgeous, and the weather was perfect. Even though I'm from Michigan, I felt like I could see it in a new light; I had a better appreciation of Michigan throughout the summer. And I'll never forget the great friends I have made. We even started (hopefully) planning a road trip in a few years.
Lastly, the field trips we went on were very informative and worthwhile. Chrislyn did a wonderful job of planning each one. We were able to see the industry as well as the crops they grow for bioenergy and biofuels. It gave me a better understanding of all the roles necessary for the GLBRC to work effectively.
Overall, this undergraduate research program was a huge success, and I highly recommend it. The program allowed me to grow in many significant areas, both professionally and personally. This summer has been the best summer I have had in a long time, and I would do it all over again in a heartbeat.