Zabrenna Griffiths Blog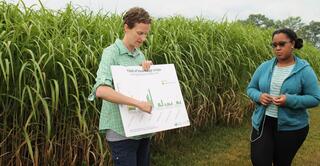 This summer, I was lucky to participate in the GLBRC summer program. I applied to this program because of my interest in remediating our current global climate situation. I was placed in the Hegg Laboratory working with Dr. Eric Hegg, Clarisse Finders and Josh Haslun. My project focused on monitoring nitrous oxide (N2O) emissions using an engineered enzyme. N2O is a potent greenhouse gas that can be produced as a result of agricultural activities. Controlling agricultural emissions of N2O corresponds to sustainability branch of the GLBRC mission.
Working in the Hegg Lab was such a great learning and research opportunity for me. Clarisse and Josh were great mentors that really inspired and motivated me. Days with Clarisse were spent working in the coy chamber while days with Josh usually meant a lot of calculations. This summer, I was able to learn new laboratory techniques and even a little bit of the programming language R. Clarisse was a patient and thorough teacher and under her guidance, I became more confident in performing my daily activities.
Field trip days were the best days! I loved all of our trips and how they tied in with what the GLBRC is focused on. My favorite trip was probably to the corn farm and the ethanol production plant. It was intriguing to see the corn ethanol process progressing from out in the field to the fuel we put in our tanks. Not only did these trips serve as an educational tool, but, they also gave us the chance to bond as a group. We also had really fun recreational trips as an added bonus. Getting some days out of the lab to relax was definitely a perk of this program.
I really enjoyed my summer and I loved interacting with all these amazing people that I would have never met on my own. Chrislyn is such a wonderful coordinator and I appreciate her efforts with keeping us organized and ensuring that we were comfortable throughout our stay. I would definitely give this summer 10/10 for the experience and the research.