Corinne Fischer Blog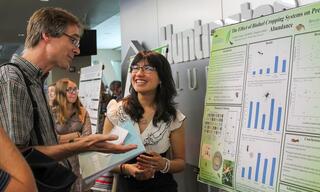 When I got accepted to participate in the GLBRC undergraduate research program, I was not quite sure what to expect from it. While I knew I would be doing bioenergy-related research in Doug Landis' entomology lab, I did not know what exactly that would entail. It was a little nerve-wracking knowing I would be spending 10 weeks in another state conducting unspecified research as my first internship. However, I was certainly ready to take on the adventure.
Within the first week, I knew I had made the right choice. I loved going to lab . Not only was the research interesting and personalized to fulfill my intellectual goals, everyone in the lab was full of warmth and humor. I immediately felt so welcome. I could not have asked for better lab mates. Everything I learned in terms of entomology, field work , research in general, and professional development was invaluable.

In addition to furthering my academic development, I had the pleasure of meeting wonderful people from around the country and the rest of the world. Although it took some time for us to become more comfortable with one another, everyone was always friendly and kind. We went on countless fun trips with and without the program that have created lasting memories. There was never a boring weekend!

Overall, this summer has been an incredible experience for me. I was able to enhance my academic, processional , and social skills much more than I had anticipated. If I could, I would do it all over again and will certainly miss everyone and the lovely times I had. I am so grateful for having had the opportunity of this whole experience.