Summer Undergraduate Research Program - UW–Madison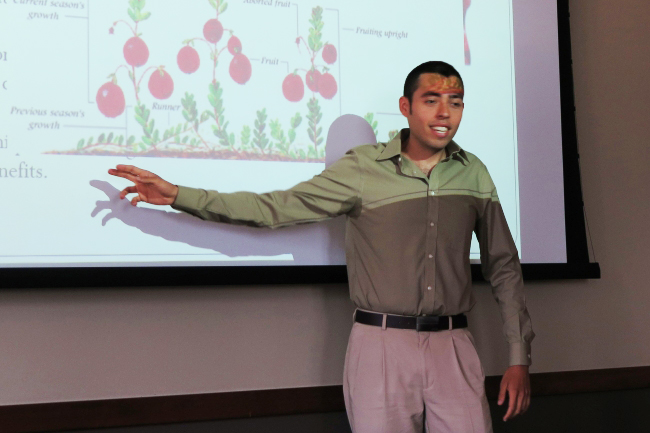 The National Science Foundation (NSF) funds a Research Experience for Undergraduates (REU) program in research labs at UW–Madison. Program participants live close to campus and perform full-time research for 10 weeks within a discipline-based research group led by a faculty member. A seminar series taken alongside allows participants to learn from each other's experiences and contextualize their research projects within the overarching theme of biological information flow, storage, and exchange. Additional events and activities build community, support career and graduate school exploration, and help students build useful skills, such as science writing. Students present their projects at a final symposium and write research reports to summarize their findings.
The Theme: Information Flow, Storage, and Exchange
Understanding information flow, storage, and exchange is essential to decoding the cellular mechanisms of growth, development, and reproduction of organisms, as well as their interactions within populations and interrelationship with the environment at the ecosystem level (AAAS, 2009). These concepts are at the core of research questions across biological sciences disciplines. The diverse research projects that SIGNALS participants undertake—which may involve any scale from molecules to ecosystems—will each explore a research question related to understanding the many forms of information or signals in biological systems, how information moves within and across biological scales, and/or how signals from the environment can impact cellular processes and thus affect organismal and population activity.
You may have already wondered about information-related questions such as...
How do bees and other pollinators know which flowers to go to?
How do viruses communicate with host cells?
How can toxins in the water change the development of aquatic organisms?
How do cells control the flow of proteins and membranes between different cellular compartments?
Come explore how an understanding of biological information flow, storage, and exchange can help you answer your research questions.
If you have questions about the program or application process, please email ibs@biology.wisc.edu.
For more information, visit the official program page.
Location
University of Wisconsin–Madison
Timing/Duration
Summer, 10 weeks
Who Should Apply
Students who are African American, Hispanic, Native American, Southeast Asian, Native Alaskan or Native Pacific Islander OR who are from low-income homes OR who are the first in their family to attend college OR who attend small liberal arts institutions without broad research facilities are strongly encouraged to apply.