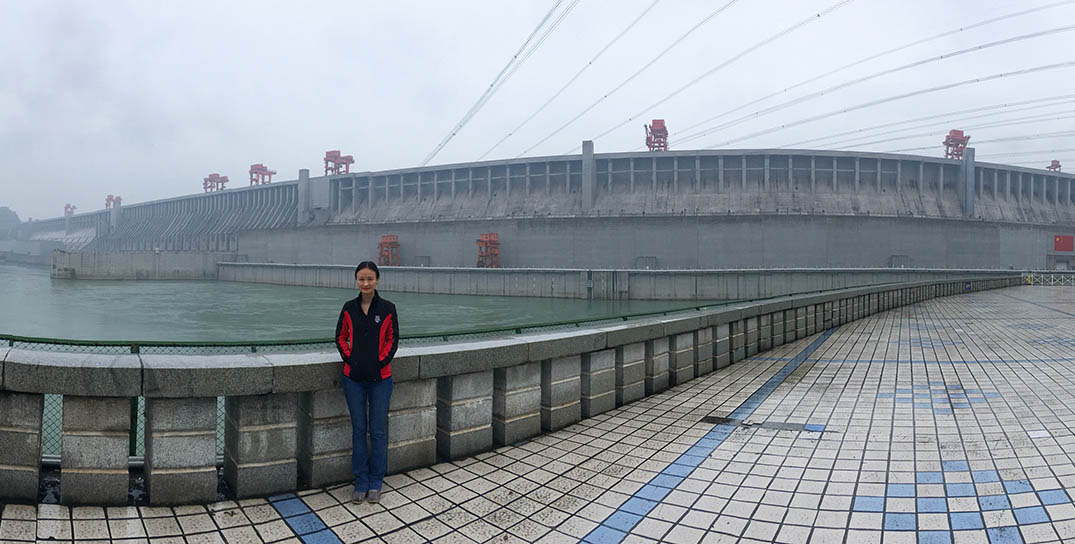 Yiying Xiong
200 miles upstream of China's massive Three Gorges Dam, Wanzhou perches of the bank of the Yangtze River. During her childhood, Yiying Xiong witnessed people in her hometown being forced to leave their homes there and seek higher ground each summer as the river flood swept their houses. The frequent flooding ultimately led to the construction of the world's largest dam and hydroelectric plant.
Xiong, new Great Lakes Bioenergy Research Center (GLBRC) associate director, has turned this deep connection with the power and potential of renewable energy into more than 20 years of experience in leadership, management, and business development in this area. But it began with feeling the direct impacts of a water power marvel.
Xiong excelled in school and was offered a chance to attend Tsinghua University, a school in China that regularly tops global lists of the best engineering colleges, without taking the college entrance exam, but she was given a choice of only four majors. "I don't remember the other options," Xiong recalls, "but hydropower was the only one I knew anything about."
While diving into engineering, Xiong also led a student TV station and debated a possible career in journalism. Then she was recommended to Charles Melching, a professor at Marquette University in Milwaukee, Wis. who offered her full scholarship as a master's student in the water resources program at Marquette University. "I didn't really know how to pronounce the name of the city or even exactly where I was going," Xiong says, "yet I came here all by myself with about 200 pounds of luggage."
Once in Wisconsin, she quickly became enamored with the tactile and impactful nature of water resources engineering. "All the projects we did were interesting, and I started seeing that what I learned could be applied to the real world," she says. "I also realized that I like to see things that can add value to the day-to-day advancement of society."
Xiong then started consulting with several companies around Madison, Wis., where she gained experience in project management and technical work in hydropower, aviation, and municipal projects, including at the Dane County Regional Airport. Later, Xiong focused on marketing, business development, renewable project financing and strategic planning for companies around the world, all while starting her own business.
"I really want to see my peers grow. In a leadership role, I can help them grow, and they'll help me do my job better"
More recently, during her time at RTI International, a global research institute, she collaborated on the U.S. Department of Energy's HydroWIRES initiative to develop innovations in the hydropower industry, worked with the Gates Foundation's water, sanitation, and hygiene program in Asia, and supported the National Science Foundation's efforts in the food-energy-water nexus. The experiences reframed Xiong's goals. "I really wanted to drive the industry, instead of reacting to what government and policymakers or companies were demanding," she says. "That triggered my interest and my motivation to get into an organization like GLBRC."
New Perspectives
Xiong intends to apply her time in the private sector to her work at GLBRC. "A big passion that I have is to create and promote collaboration – I want to build a bridge between research and industry," she says. "We can always do better, we can always collaborate wider, broader, and with more industries."
Partnering on projects around the world has guided Xiong's philosophy as a leader. Experiencing diversity, both in cultures and communication styles has bolstered her passion for understanding more about how people relate to each other. "Some cultures in Africa really like to talk about their family members and personal experiences before getting into real business, while some other cultures stay completely within business in the office. Recognizing these differences has made me better at relating to people from different cultures and offers me a new perspective – and I just love that."
An awareness of cultural diversity also brought out Xiong's ambition for advancement of women in engineering leadership. "When I started in engineering consulting, it was very much a male-dominated industry," she recalls. "Women are not always given the same opportunities for advancement or paid the same as their male peers. It just got me thinking, if we don't advocate or support ourselves, no one will."
"I really want to see my peers grow. In a leadership role, I can help them grow, and they'll help me do my job better," she adds.
Xiong knows her philosophy of inclusiveness will be an asset for her at GLBRC. "One thing I really like is open communication and transparency. We maybe have different ideas, but it's much easier to have constructive disagreements if everything is out in the open," she says.
It's this open-door philosophy that Xiong hopes to continue, even with many scientists, staff, and students working remotely. With few opportunities to bump into colleagues informally, Xiong has instituted weekly "office hours."
"I'll just be here. Come knock on the door, and we'll talk."
Sustainable Biomass Conversion
Sustainable Field-to-Product Optimization
Sustainable Bioenergy Cropping Systems