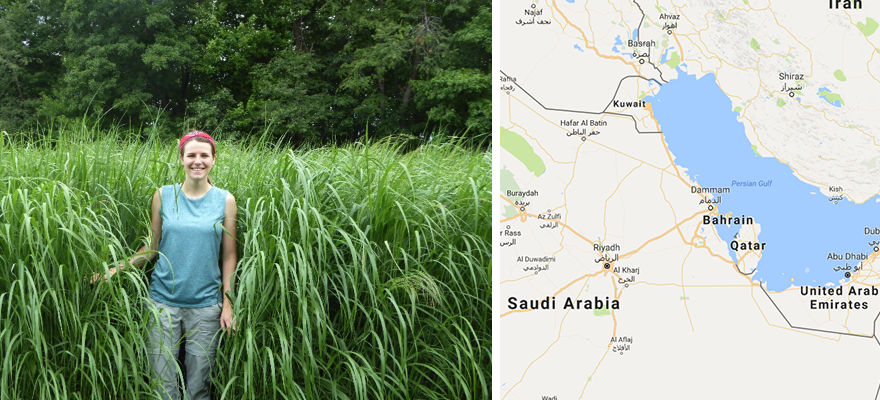 Kathryn Bloodworth's passion for science is taking her places. The Persian Gulf country of Qatar, to be more specific.
Bloodworth started college as an early childhood education major but changed majors her sophomore year after her first day of biology.
"My professor showed a slide that listed all of the potential careers you could have with a biology degree," says Bloodworth, "and I fell for the idea of a research career in biology, especially in climate change and environmental science."
This interest led Bloodworth, who graduated in December from Eastern University in Philadelphia, to apply for a spot in Michigan State University's Kellogg Biological Station Research Experience for Undergraduates (REU) in the summer of 2016. The unique opportunity to gain rigorous, hands-on research experience prior to making a decision about graduate school and her future career aspirations is what drew her to the program.
During the summer, Bloodworth worked in Dr. Sarah Evan's lab, a researcher with the Great Lakes Bioenergy Research Center (GLBRC), under the direction of postdoctoral researcher Will West. In her project she evaluated nitrogen transformations and nitrous oxide emissions in soil samples collected from GLBRC research sites planted with switchgrass, a potential bioenergy crop.
"Kathryn was a pleasure to have in the lab," says West. "Her work on understanding how switchgrass root exudates influence microbial communities and greenhouse gas production in soil will contribute significantly towards a manuscript."
In November, Bloodworth had the opportunity to travel to Doha, Qatar, to present her research at the World Congress on Undergraduate Research.
"It was great to be able to talk to students at Qatar University and realize that despite some very large differences between us," says Bloodworth, "we were all interested in the same scientific questions and had shared goals."
For more information about opportunities for undergraduate research at the GLBRC, visit us online.
Field-to-product integration