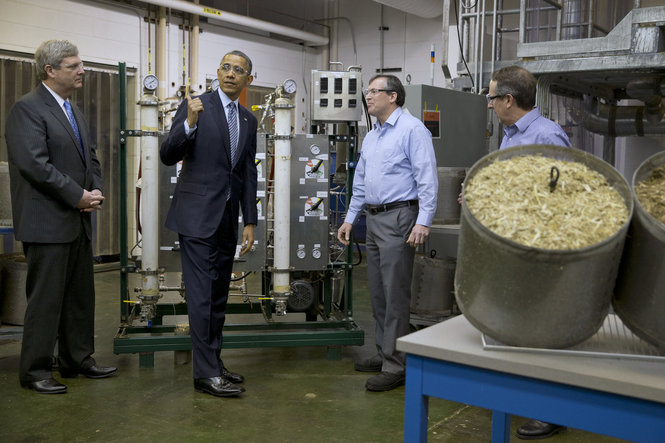 Michigan Biotechnology Institute (MBI) and Michigan State University (MSU) welcomed President Obama and Secretary of Agriculture Tom Vilsack to campus and the MBI facility on February 7, 2014. The President and Secretary Vilsack toured the MBI facility prior to President Obama signing the Farm Bill at MSU's Mary Anne McPhail Equine Performance Center.
While at MBI, President Obama and Secretary Vilsack, led by MSU President Dr. Lou Anna K. Simon, learned of MBI's innovative collaboration framework for taking early stage bio-based technologies, originating in university labs or the private sector, to demonstration of commercial viability. At the first tour stop, the President saw how early-stage bio-based technologies progress from test-tube quantities to several thousand liters as they are developed in the MBI fermentation pilot plant.
At a second stop on the tour, President Obama heard about MBI and MSU's AFEX™ technology. AFEX is a transformational technology that has the potential to double worldwide output from existing grain-crop production within the next twenty years. Successful commercialization of AFEX will have a profound impact on our ability to meet growing demand for food, feed, and renewable fuels and chemicals. This innovative technology, originally conceived by Dr. Bruce Dale of MSU and further developed at MBI, addresses the logistical and process challenges of converting agricultural residues (corn stover, wheat and rice straw) to bio-based fuels, chemicals, and uniquely, animal feeds. The cost-effective design and distributed commercial deployment model allows production close to farms, supporting rural economic development and addressing food versus fuel concerns.
At a third stop, the President learned of a unique interdisciplinary collaboration underway at MSU. An internationally renowned program in potato breeding aimed at improved nutritional content and disease resistance has been transformed by collaborative research with a leading plant genomics group. The application of next generation sequencing and computational genomics has greatly accelerated the ability to identify and introduce traits into new potato varieties.
Following the recent successful commissioning of the AFEX pilot plant, "we are particularly excited to have President Obama and Secretary Vilsack visit MBI and give us an opportunity to share the AFEX story and the enormous potential that this technology represents," said Allen Julian, Chief Business Officer of MBI. "Having the President visit MBI made for an incredible day, but having him sign the Farm Bill here at MSU on the same day made it even better, as the Farm Bill provides support for the development of renewable fuels, chemicals and other biobased products that further the cause of sustainable development, something which is core to our mission at MBI."
MBI is a not-for-profit company with 30 years of experience in derisking and scaling up bio-based technologies. Incorporated in 1981, MBI has been a wholly-owned subsidiary of the MSU Foundation since 2005. Capabilities include biomass processing, strain and fermentation development and downstream processing at bench and pilot scale. MBI has a history of successful collaborations with companies large and small, spanning bio-based fuels, chemicals and polymers. The company is also a collaborator with the Great Lakes Bioenergy Research Center (GLBRC), a biofuels research initiative led by the University of Wisconsin and MSU.
Michigan State University has been working to advance the common good in uncommon ways for more than 150 years. One of the top research universities in the world, MSU focuses its vast resources on creating solutions to some of the world's most pressing challenges, while providing life-changing opportunities to a diverse and inclusive academic community through more than 200 programs of study in 17 degree-granting colleges.
Sustainable Field-to-Product Optimization