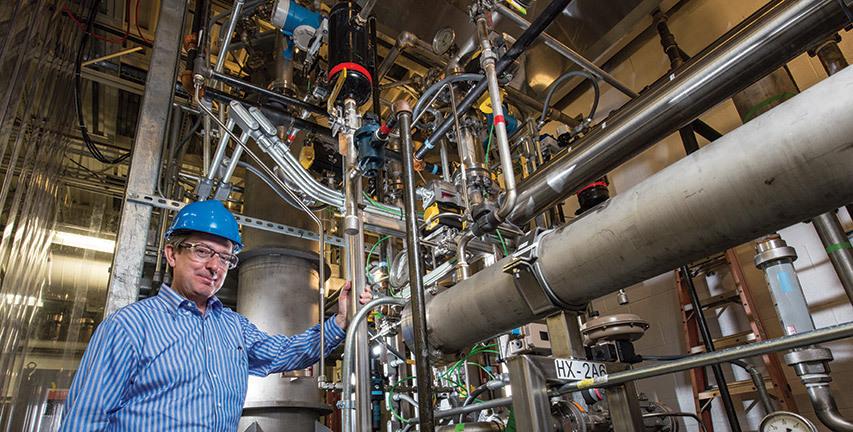 At Michigan State University, members of research and industry are working together to put a pioneering biomass pretreatment process to the test—the taste test, that is.
"Ammonia fiber expansion, or AFEXTM*, is a very promising technology for utilizing biomass to make renewable fuels and chemicals, as well as other important materials like animal feed," says Bernie Steele, Director of Alliances and Operations at MBI.
At the UW-Madison Bioenergy Showcase on October 15-16, Steele described how AFEX—which involves applying heat and ammonia to tough cellulosic biomass like corn leaves and stalks—results in a plant material that can be pelletized for transport and storage and is easily digested by ruminants.
The idea for AFEX was originally developed in 1980 by MSU chemical engineering professor and Great Lakes Bioenergy Research Center (GLBRC) researcher Bruce Dale to prepare cellulosic biomass for fermentation to ethanol. Today, MBI—an MSU Foundation subsidiary specializing in the de-risking and scale-up of bio-based technologies—is optimizing the AFEX process for use on an industrial scale.
"For biomass to be a viable feedstock for industrial processes, it must be produced as a commodity. That means it has to have specifications that will allow you to easily transport it, store it, and use it in your process," says Steele.
"We look at the AFEX pellets as a commodity that can easily be shipped to somebody, and it will feed into their industrial processes very consistently."
Steele told the audience of researchers and industry representatives that on September 19, MBI began a160-day beef cattle feed trial to test the efficacy of AFEX-pretreated biomass as nourishment for livestock. Feed pellets for the trial are being produced at MBI's new DOE-funded AFEX pilot plant designed to process up to a ton of biomass per day.
If successful, the trial could bring the AFEX process closer to commercial deployment. Due to its storage and transportation advantages, AFEX-pretreated biomass could create the foundation for a decentralized biorefinery model with significant benefits for rural economies.
"The exciting thing about using cellulosic biomass such as agricultural residue is that it's a material that's already being produced," says Steele. He explains that in addition to putting an otherwise wasted crop residue to good use, the process could have significant sustainability impacts: for example, one billion tons of pelletized AFEX biomass could replace 56 billion gallons of gasoline if used for producing biofuels, or provide 1.2 billion tons of milk if used to feed dairy cattle.
The beef cattle feed trial is being led by Steven Rust of the MSU Department of Animal Science at the Beef Cattle Teaching & Research Center, and involves feeding 12 cows a special diet that includes AFEX pellets. The cows' food consumption, weight and condition will be monitored and compared to those of 12 cows eating a traditional diet.
Steele says that MBI's work with AFEX represents a key partnership between research and industry that will provide the support needed to help emerging technologies make the transition from basic science to successful commercial application.
The Bioenergy Showcase opened with a reception and poster session on October 15, followed by a series of presentations on emerging research and examples of successful academic and industry partnerships on the 16th. The final highlight of the event was a talk by Growth Energy CEO Tom Buis on "The Future of Renewable Fuels."
View a video about MBI's pilot plant here.
*AFEX is a trademark of MBI.
Sustainable Biomass Conversion