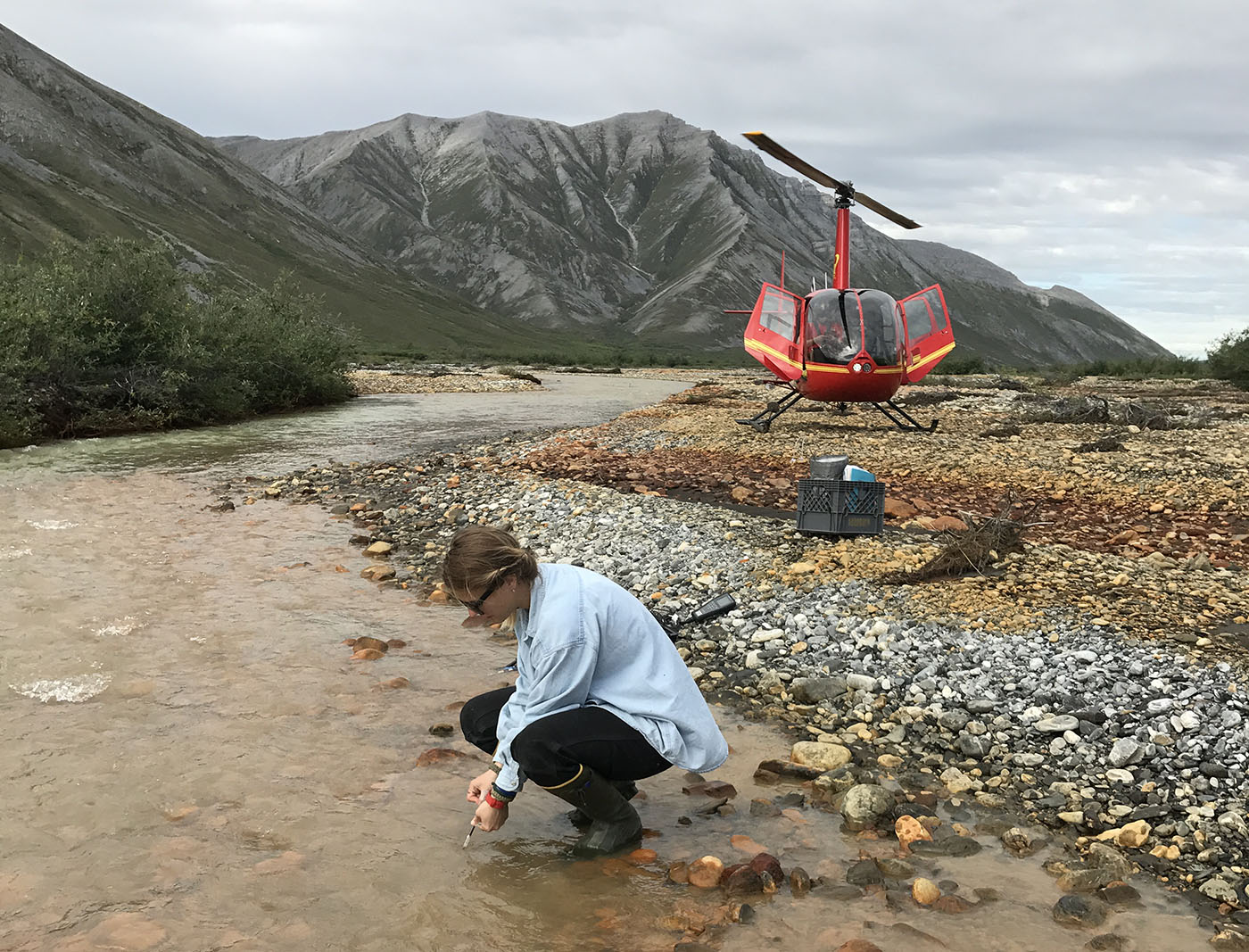 Courtesy Adrianna Trusiak
Adrianna Trusiak has been on the job for three months but still hasn't seen her office. She started her role as a Great Lakes Bioenergy Research Center research coordinator at the beginning of April, just a few weeks after the Center's in-person operations ceased due to the COVID-19 pandemic.
Since then, she's been working remotely out of her apartment in Ann Arbor, where she recently finished her Ph.D. in aquatic geochemistry at the University of Michigan. In June, she moved to East Lansing, where she will be based at the Michigan State University campus. She is co-supporting the Field-to-Fuel Optimization, Switchgrass Productivity, and Environmental Performance aims.
Trusiak is happy to have found a place where she can support and advance collaborative research. Throughout her education, she loved learning and wanted to be involved in science but wasn't sure an academic career would suit her.
"I always had an interest in more managerial positions and helping facilitate science instead of doing the science," she says. "I was so excited about this position… I would get to learn all about bioenergy research and talk with so many different researchers, and also get insight into how a center like this works."
Drawn to Rocks
After moving to New York City from Poland at age 16, Trusiak attended the Macaulay Honors College at the City University of New York. "I kind of didn't know what to do in college, like a lot of people," she says. "So I was pre-med majoring in psychology, which I feel like is one of the most cliché, immigrant-child type of things… like filling my parents' dreams and hopes for me."
But she quickly realized that she wasn't finding the challenge she sought. Right before fall semester of her sophomore year, she dropped all of her psychology classes and registered for a mix of other subjects. One was Earth science, which she had taken in high school.
"When I moved to the U.S., Earth science was considered the 'easy' science to take, and my English wasn't that good in high school," she recalls. But she remembered enjoying the class. She signed up for a college Earth science course and was hooked. She studied hard, made an appointment with the professor to talk about research, and spent the next two and a half years working in her lab. "I just fell in love with being at the bench, collecting data, seeing what is happening, just being part of it all—talking about science, planning it, and doing it."
She went on to graduate school at the University of Michigan, where she studied iron-based chemical reactions that oxidize the carbon in thawing soil in the Arctic, leading to increased carbon dioxide emissions as the climate warms. She just defended her Ph.D. earlier this year.
In Trusiak's first months at GLBRC, she's been organizing meetings for her aims' co-investigators, learning about the Center's goals and research, writing some research highlights, and doing a lot of reading. She attended the January Department of Energy review and the virtual Annual Science Meeting to get an overview of the Center's organization and work. Everyone has been welcoming and helpful, she says, but she's looking forward to meeting colleagues in person.
One particular area of interest is data sharing. She's been working with the Information Systems team to help develop and expand the data catalog to include more pipelines of material from biomass to fuel and to make the data more accessible. Part of this interest stems from her graduate work at the Arctic Long Term Ecological Research site in northern Alaska, where research has been ongoing since 1975.
"Being part of such a long-term project, I really learned to appreciate and value having a record of data over time, especially data that is well organized and has all of the metadata and protocols associated with it so that it was clear how it was collected," Trusiak says. "At GLBRC, I want to focus on data storage and sharing to make sure that all of the hard work that goes into data collection by GLBRC researchers is recorded properly and can be shared with others for years to come."
Opening the Black Box
She's also the point person for GLBRC outreach activities at MSU and will be coordinating the summer undergraduate research program. Although the program was canceled this year, she looks forward to sharing the transformative experience of research with undergraduates. "I know how big of an impact it can make on a student to have a good research experience," she says. "It made such a huge impact on me."
"For any scientist at any level, it grounds you to think about your research in broader terms."

— Adrianna Trusiak
She'll be working on developing outreach activities and training for researchers at MSU to help share the Center's science more broadly. "I think science is still this black box" to many people, she says—including her own family.
"Neither one of my parents are particularly interested in science," she says. As a graduate student, "I didn't know how to explain exactly what I was doing. For them it was just all rocks. I couldn't fully explain to them why it was appealing to me."
Over the years, she's become more comfortable breaking down the complexity of science. "I think it's important to share it with people, so they're not afraid and they can follow and listen to advice and trust science," she says. "For any scientist at any level, it grounds you to think about your research in broader terms."
In bioenergy research, she sees an important tie to climate change and opportunities to reduce the negative impacts of fossil fuels—effects she saw acutely while working in the Arctic.
This summer, she has also been the driving force behind re-energizing the GLBRC Instagram account (@glbioenergy). "During graduate school, everyone gets super busy with their work and sometimes, some advisors are not as supportive of doing outreach," she says. "I found that social media was such a good and quick and easy way to reach out to a lot of people."
In her free time, Trusiak enjoys hiking, jogging ("I don't say running—there are a lot of people who are very serious about running and I'm not"), reading (currently, The Witcher series, in the original Polish), and playing with her pet rabbit, Pyzia (a Polish name that means "chubby face"). She loves animals and volunteered for two years at The Creature Conservancy in Ann Arbor, caring for and teaching visitors about the animal residents. (Her favorite? A Virginia opossum named Athena. "Opossums are such cool animals and very underrated.")
Now that she's based in East Lansing, she's looking forward to being able to meet all of her Center colleagues in person. "It feels like I've been here forever, because I think time is acting in very bizarre ways right now," she says. "So far it's been so great. Everyone has been super nice and so helpful."