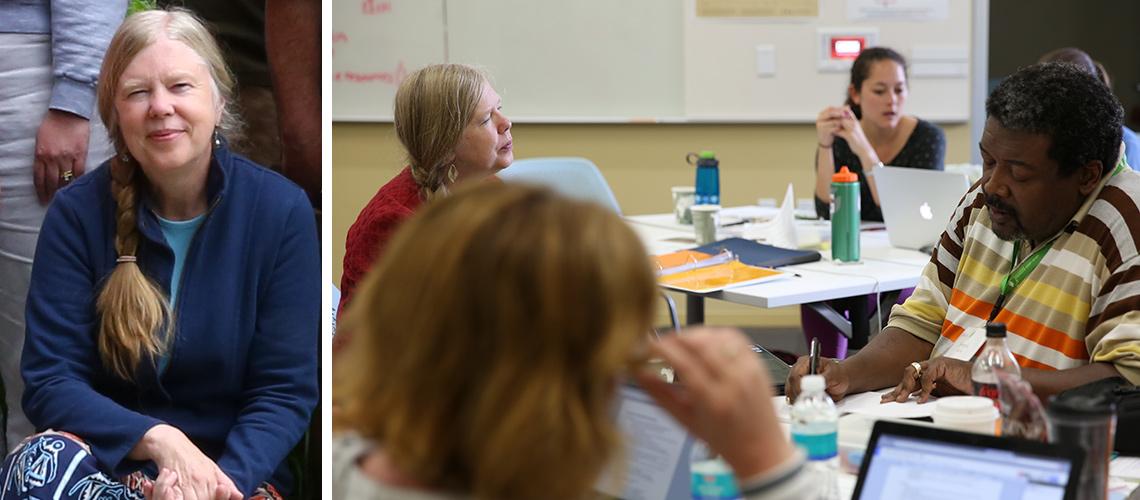 Do you know your "CoM" (conservation of matter)? How about your "CoE" (conservation of energy)? According to Joyce Parker, researcher at the Great Lakes Bioenergy Research Center (GLBRC), memorizing these scientific principles is easy enough but knowing how they apply to the real world – or to the science of climate change – is a leap that many find challenging.
An assistant professor of geological sciences and teacher education at Michigan State University (MSU), Parker has devoted the last 25 years of her career to understanding how students learn science and how best to teach them the concepts that are essential to a good scientific understanding.
"As students progress through school, we introduce them to increasingly complex scientific concepts," says Parker. "But students aren't blank slates. Any new knowledge is incorporated into how they already understand their world – it's tremendously important to help young students establish a solid scientific framework."
Born and raised in Chicago, Parker says her own solid science education was partly the result of good public schools but just as much due to her parents.
"My father is a theoretical physicist and my mother has a biology degree," Parker says. "A lot of family time was spent outdoors, naming trees and flowers, paying close attention to the details of the natural world."
Those family adventures had a deep influence on Parker and for as long as she can remember she wanted to be a scientist. As an undergraduate at the University of Chicago, Parker majored in chemistry. She then went on to earn a Ph.D. in biochemistry from Princeton, where she stayed on for several years as a post-doctoral researcher.
"My years at Princeton were pivotal," says Parker. "I truly appreciated the questions biochemists were trying to answer, but I hadn't planned on the boring nature of lab science. I just wasn't a patient enough person for that kind of work."
As she struggled through long hours in the lab, Parker also began to work with undergraduate students, leading junior science majors in discussions of scientific papers and teaching them lab techniques that would help them prepare for their rigorous senior year.
"These extremely sharp students, the cream of the country's crop, wrote really well and knew a lot of facts," Parker says. "But too often the facts didn't add up to a solid scientific foundation."
Surprised that these bright students could know so much and yet lack a basic understanding of fundamentals, Parker began to develop a deep curiosity about how students learn science.
It was this curiosity that motivated Parker, when she moved to East Lansing, Mich. with her husband in 1987, to alter her career path and get certified as a high school science teacher. She then joined an MSU program in which education researchers went out into schools to work alongside teachers.
Parker worked with middle- and high-school science teachers in Flint, Mich., where students were poor and often high-need. Officially, she was there to help the teachers but Parker insists she was the one doing most of the learning. The teachers talked constantly about how their students learned, what they could and couldn't understand, and the importance of starting from the students' perspectives, no matter how inaccurate.
"When students say outrageous things, it's tempting to roll your eyes," says Parker. "But they think what they think for a reason. In Flint, I learned the importance of figuring out how students are putting pieces together, and better understanding the version of science they have in their heads. That was a really good start for me in formulating ideas about areas of research."
Convinced that she could best help those science teachers by researching how students think and learn, Parker began her own research at MSU in the late 1980s.
Parker and her colleagues have found that different students reason at distinctly different levels, depending on their understanding of fundamental scientific concepts such as conservation of matter and energy.
"They have to be grounded in the basics," says Parker. "Students need to understand that there is a finite amount of carbon in the universe and carbon-transforming processes such as photosynthesis, respiration, and combustion determine where those carbon atoms go. It's all about the carbon. Too much atmospheric carbon leads to climate change. We need to help students see that."
At GLBRC, Parker conducts research on how students understand biofuels concepts, helps write GLBRC's curriculum, and also helps with GLBRC's Bioenergy Institute for Educators, a summer professional development program.
Parker's most recent research is focused on how students understand data that different parties use to support their perspectives, especially on global climate change.
"There are so many opinions about climate change and what we should do about it," Parker says. "We want to know how well students understand the carbon-transforming matter and energy changes that drive climate change, and how well they reason about evidence-based claims."
Despite the challenges of increasing student understanding of critical topics like climate change, Parker says the future is bright. She sees great promise in the Next Generation Science Standards (NGSS), the new national K-12 science standards focused on crosscutting scientific concepts and hands-on "practice"-based learning.
"It's about more doing and less memorizing," says Parker. "Teachers will need to work differently, so this is a great opportunity for GLBRC to help with professional development and environmental science curriculum that helps build science literacy from the ground up. The standards are definitely helping us move in the right direction!"
GLBRC is one of three Department of Energy Bioenergy Research Centers created to make transformational breakthroughs and build the foundation of new cellulosic biofuels technology. For more information on GLBRC, visit www.glbrc.org or visit us on twitter @glbioenergy.