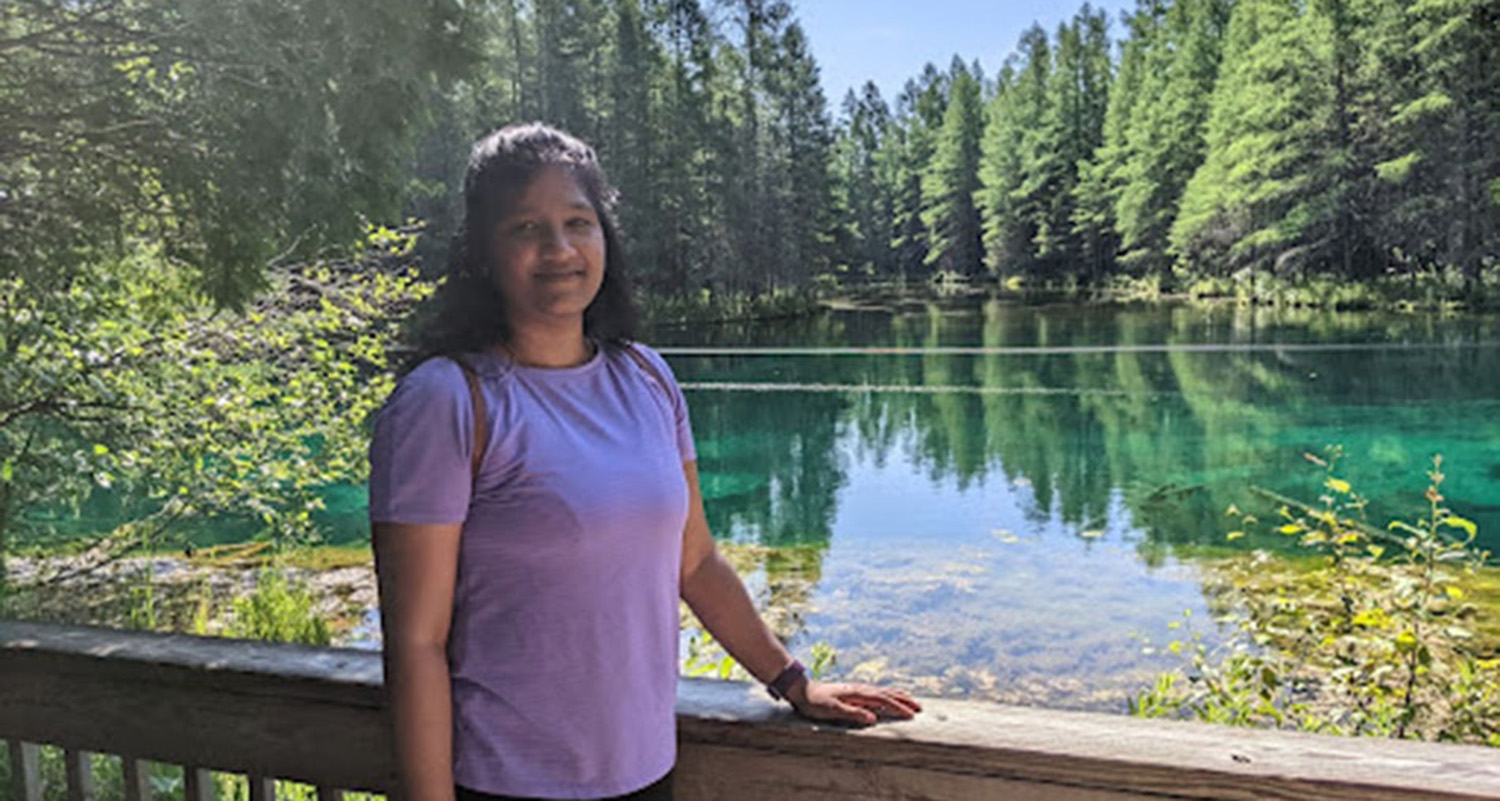 Sarvada Chipkar
Our graduate students and postdoctoral researchers play an enormous role in the transition to a sustainable, resilient, and affordable energy future that is centered on social and economic equality. From lab experiments to field work to classrooms, these leaders of today and tomorrow are our catalysts for energy discovery.
In this series, we learn more about what inspired these talented researchers, what brought them to their field of study, and the questions that drive their work at the Great Lakes Bioenergy Research Center (GLBRC).
"I'm pretty sure that right now I know a lot of things that I would have not known if I wouldn't have taken this project. There are ups and downs, but positivity keeps you going."

Sarvada Chipkar
Today we spoke to Sarvada Chipkar, a PhD candidate in Ong Research Laboratory at Michigan Technological University. Sarvada is from Mumbai, India and received her B.S. in Chemical Engineering from the University of Mumbai in 2017. She speaks on the power of positivity and passion when it comes to taking a leap.
Tell me a little bit about your roots, where are you from?
I was born and brought up in Mumbai, India. I finished my primary education and my engineering degree there. After that I moved to Houghton, Michigan in 2017. At the time, I hadn't lived away from my family for more than a week so it was a little difficult.
I had lots of jet lag because India is 11 and a half hours ahead so it took me about three months to adjust to the timeline here. But the people here at MTU are warm, nice, and welcoming, which made it easier.
What do you like about Dr. Ong's Lab, Houghton, or Michigan in general?
We are a small team that roots for each other and helps each other. It's a very friendly environment and flexible workspace, and I like being in the lab.
What first sparked your passion for science & research?
I had always been interested in science and math. I would say I always had more of an inclination towards learning how things work, and my parents have always been encouraging about that. But my actual spark to become a scientist happened in the 8th grade during one of my science projects. I wasn't sure when I'd be a scientist or in what department, but I had a longing for achieving it at that age.
I did not have any biology background but I always loved nurturing plants. I am a hobby gardener. I have a green finger. I was always enthralled but I never thought it could be a part of my professional life to.
Can you tell me about your current research in a way that you would describe to a non-scientist?
I am working on characterizing fungal inhibitors from drought-stressed switchgrass. Environmental scientists around the world have predicted climate change and that comes with a change in weather patterns. In future years, some parts of the world might experience extreme drought while the other parts would experience extreme rainfall.
I'm working with switchgrass, a native prairie grass in the United States. Switchgrass harvested during the U.S. Midwestern drought of 2012 totally inhibited yeast growth towards bioethanol production via fermentation. So my project focuses on characterizing those inhibitors and eventually finding ways to overcome that inhibition and reduce the loss of bioethanol, a plant-based gasoline alternative, in drought-stressed switchgrass.
What part of your research brings you the most joy?
I learned an entirely new skill set of performing fermentation which otherwise I would have never learned. I love running fermentation experiments and working with microbes, yeast, and everything. I was so happy when we were able to identify the microbial inhibitors that we had in our drought-stressed switchgrass.
"The journey of learning those methods and analyzing skills, I enjoy it a lot. I wouldn't have done that if not for doing my PhD."

Sarvada Chipkar
What does your work flow look like?
My research has different aspects to it so my typical day looks different every day. Initially, it was all literature review, and then planning, designing, and executing experiments. Running the experiments included different steps but eventually concluded with fermentation. This was followed by analyzing loads of collected data and presenting our findings in a journal paper.
What previous skills are you grateful for in terms of preparing you for your graduate experience?
During my last year of engineering, I was involved in a research project where we were trying to find out if we could produce biodiesel from used cooking oil that is otherwise thrown out. Instead of using any big equipment, we were trying to use small debit card-sized microchips as reactors to generate the biodiesel.
We optimized the conditions of a known method in a new apparatus. That kind of optimizing, running experiments, analyzing the data, and troubleshooting prepared me with the skills I would need for the current project I am working on.
What's something interesting you've learned outside of the lab?
Baking and cooking. In Mumbai, I never had the time. A lot of your time is spent commuting. It's also a very buzzing city life. After moving to Houghton, I figured out I prefer the slow countryside life.
I explored many of my old hobbies and discovered some new ones. I even started painting after a long off period so it's been nice. I stay close to campus so now, I get to dedicate that extra time I save on commuting to my hobbies.
Do you have any hopes or plans for your career after your time at Ong Lab & MTU?
I'm planning to graduate this semester. I wish to still be in the research field so I'm looking for postdoctoral positions, probably in the field of pharmaceuticals or fermentation where I would be able to further advance my skills.
"It's essential that you have the interest and liking to start that project more than the knowledge, because that can be acquired. You cannot generate a liking if you don't have it from the start."

Sarvada Chipkar
What advice do you have for future bioenergy researchers?
When you start a PhD or new research, you start from scratch. All your previous background is just there to build an aptitude towards research.
So, the one thing you need to have is a liking for your project. In my case, since it was a plant related project, I always had the motivation that my research is related to something I love so much that I can dedicate my entire time to it happily.
Sustainable Bioenergy Cropping Systems
Sustainable Biomass Conversion