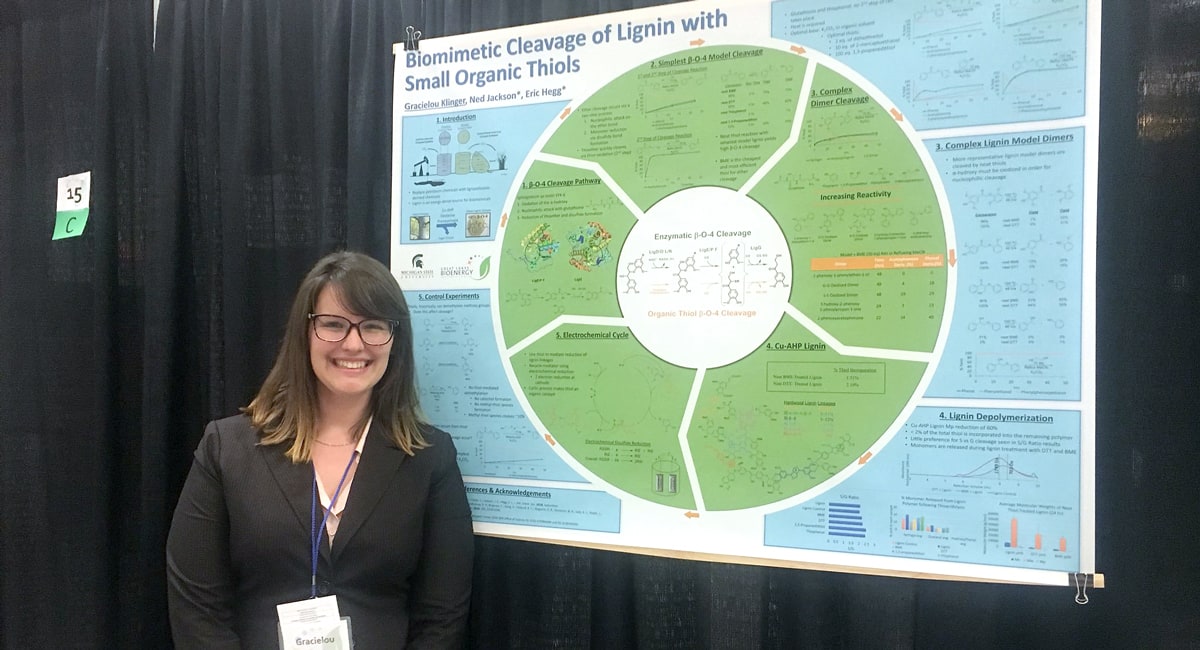 Gracielou Klinger likes to describe the chemicals she uses in her research at Michigan State University (MSU) as "smelly." Klinger, a biochemistry graduate student in the Great Lakes Bioenergy Research Center (GLBRC), studies how smelly chemicals such as sulfur can be used to break apart lignin and turn it into valuable products like biofuels.
Klinger is finishing the final year in her Ph.D. program under the guidance of Eric Hegg and Ned Jackson. During her graduate work, she helped develop an organic catalyst to break ether bonds and filed a patent on a novel way to break down lignin for biofuels. In addition to excelling in the lab, she also completed a science communication internship at the Shedd Aquarium and worked in the patent office of MSU Technologies helping other researchers get their ideas patented.
In honor of her significant accomplishments and contributions to the Center, Klinger has won the 2020 Jennifer L. Reed Bioenergy Science Award, previously known as the GLBRC Early Career Woman in Bioenergy Sciences Award. The award recognizes an early career woman who has made notable contributions to the GLBRC research portfolio.
"Gracie's enthusiasm, energy, and authenticity make her a natural leader. In addition, her diversity of experiences has provided her with an adaptability and broad knowledge base to make her truly unique," Hegg says. "Putting all this together will allow her to do anything she puts her mind to, and I can't wait to see where it will take her."
Klinger got her first taste of research in the GLBRC as a summer Research Experience for Undergraduates (REU) student at the University of Wisconsin–Madison in 2013. She worked in the Experimental Fermentation Lab with Yaoping Zhang, who encouraged her to apply to graduate school at one of the GLBRC institutions. That experience started her along a path that led to Hegg's lab at MSU.
"So," she says, "I ended up landing in the [GLBRC] family still."
Inspired by a farming background
Klinger's interest in biofuels was sparked by her experience growing up on her family's farm, where her father grows corn, wheat, and soybeans. She was the first in her family to complete a bachelor's degree and beyond.
"I started in that realm of biofuels and tractors and agriculture and a love of plants," she says. During her studies, she then became more interested in enzymes and how molecules could be used to deconstruct lignin to make useful products.

Lignin has a high energy content and many potential uses, but it is most often burned in factories as fuel. Other uses would require breaking the tough molecule apart into smaller molecules. The challenge is to do this without decreasing the energy content, and that's where Klinger's research and the smelly chemicals come in.
"We want to do reductions on the lignin, keep the energy content and break it apart so that we can feed it into our collaborative process that can turn a molecule into a food preservative or into polyurethane," she explains.
Communication is key
In the lab, Klinger confronts the challenge of digesting a complex molecule into usable parts. But she also knows that complex scientific research like hers isn't always easily digestible by the public. That has fueled a passion for science communication and outreach. She started doing chemistry demonstrations to area schools as an undergraduate, then continued volunteering for science festivals, lectures, and more after moving to MSU and the GLBRC.
"I'm very excited to volunteer and help," Klinger says. "My boss always says, 'We let science talk for itself.' I disagree with that. I really don't think science can be talking. I think someone needs to kind of punch down the information into something that excites non-scientific people."
Wanting to train her communication skills further, in fall 2018 she accepted a part-time science communication internship at the Shedd Aquarium in Chicago. As part of the internship, she was able to connect with local newspapers and write blogs and press releases to help explain why the Shedd's research is important to the public.
One of the highlights of Klinger's experience at the aquarium was helping to push legislation for an export ban on conch shells in the Bahamas that are endangered due to overfishing. Though not a project directly related to bioenergy, the skills she developed while engaging in these efforts come back to support the GLBRC.
When she published a paper on her research in summer 2019, she was excited to be able to write a press release about it herself — especially when it was highlighted on the U.S. Department of Energy's Office of Science main webpage.
"It goes back to the GLBRC — saying this is really important, we really need to communicate our science better so that the people in D.C. understand why they need to keep funding us," Klinger says.
Making connections
Building relationships and connections that strengthen the GLBRC is really important to Klinger.
"The GLBRC is so important in pushing boundaries and making sure that we're moving in a good direction, so that we can actually make a difference in the area of climate change," she says. "If we weren't a center, I wouldn't be able to collaborate and throw samples back and forth with people from different states as easily."
For this reason, she especially loves meeting and connecting with other researchers at the GLBRC Annual Science Meeting. In fact, she even introduced her two advisers during a car ride to her first conference, where the three of them came up with the idea for her research project.
"Gracie has incredible and unending enthusiasm, and not just for science — although she certainly has lots of that," says Hegg. "Gracie has an enthusiasm for people and life. I wish I could bottle some of her enthusiasm and use it for myself."
While the COVID-19 pandemic has complicated Klinger's plans following her graduation this spring, she plans to continue pursuing both her passions in applied research and science communication.
Sustainable Field-to-Product Optimization