Industry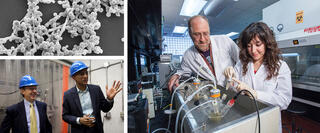 At Great Lakes Bioenergy, we work with companies and licensing agents to move new technologies to the marketplace and advance the overall economics of bioenergy. Our technologies anticipate and enable commercialization, and create new economic opportunities for biorefiners, farmers, and rural communities.
Our partnerships with industry help ensure that we're conducting science and developing new technologies that meet real-world needs.
Technologies
Some of our most exciting technologies and discoveries.
GLBRC Startups
Startup companies that are developing and commercializing our technologies.
Collaborators
Our current industrial partnerships.
Ways to Partner
Licensing, sponsorship, and other ways to share, partner, and join.