About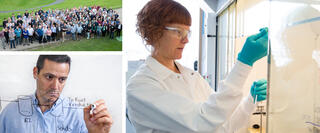 The Great Lakes Bioenergy Research Center (GLBRC) is a cross-disciplinary research center led by the University of Wisconsin–Madison. With Michigan State University and other collaborators, GLBRC draws on the expertise of over 400 scientists, engineers, students, and staff to develop sustainable biofuels and bioproducts.
Created in 2007 by the U.S. Department of Energy, GLBRC focuses on three areas of research: sustainable cropping systems, efficient biomass conversion, and field-to-product integration. Together, we are helping to replace petroleum-derived fuels and products and enable a new generation of biorefineries.
Our mission is simple: creating biofuels and bioproducts that are economically viable and environmentally sustainable.
A record of success
Since 2007, GLBRC has conducted foundational research on biofuels. Our scientists and engineers have produced more than 1,700 scientific publications, 260 patent applications, 113 licenses or options, and five start-up companies.
We're in a position to create new opportunities for farmers, rural communities, and a new generation of biorefineries.

Tim Donohue, Director of Great Lakes Bioenergy
Integrated research
GLBRC research is collaborative, integrated, and rich in partnerships with industry. Our diverse experts work together to overcome the barriers to producing sustainable biofuels and bioproducts.
Technology transfer
At GLBRC, we work with companies and licensing agents to ensure that our research anticipates and enables commercialization and creates new economic opportunities for biorefiners, farmers, and rural communities.