Diversity, Inclusion, and Acknowledgment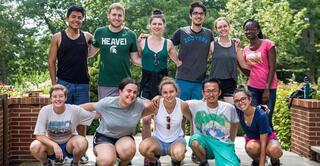 Diversity, equity, and inclusion
The Great Lakes Bioenergy Research Center (GLBRC) strives for research excellence by sustaining a community rooted in equity, diversity, and inclusion. We believe that a diverse research community is a prerequisite to conducting the foundational innovation necessary to achieve our mission. Our research can only be as strong as the diversity of our Center.
We are committed to fostering a diverse and inclusive environment that welcomes and supports everyone. We value the contributions of every member of GLBRC and respect the profound ways their identity, culture, background, experience, status, abilities, and opinion enrich our community.
GLBRC is led by the University of Wisconsin–Madison with Michigan State University (MSU) as a major partner. We support the strong commitments that both universities have to diversity, equity, and inclusion. You can read more on UW–Madison's commitment and initiatives here and MSU's commitment and initiatives here and here.
UW–Madison and MSU provide implicit bias training opportunities to all of their employees and students. GLBRC requires all of our members to adhere to their institutions' diversity principles and practices.
Land acknowledgment
UW–Madison occupies ancestral Ho-Chunk land, a place their nation has called Teejop (day-JOPE) since time immemorial. In an 1832 treaty, the Ho-Chunk were forced to cede this territory. For more information click here.
MSU and the Kellogg Biological Station (its field station) occupies the ancestral, traditional, and contemporary lands of the Anishinaabeg – Three Fires Confederacy of Ojibwe, Odawa, and Potawatomi peoples. The university resides on land ceded in the 1819 Treaty of Saginaw. For more resources click here.
We recognize that Indigenous Nations worldwide are doing some of the most important and leading work in transitioning away from fossil fuels toward sustainable and reliable energy that is affordable and accessible to everyone.